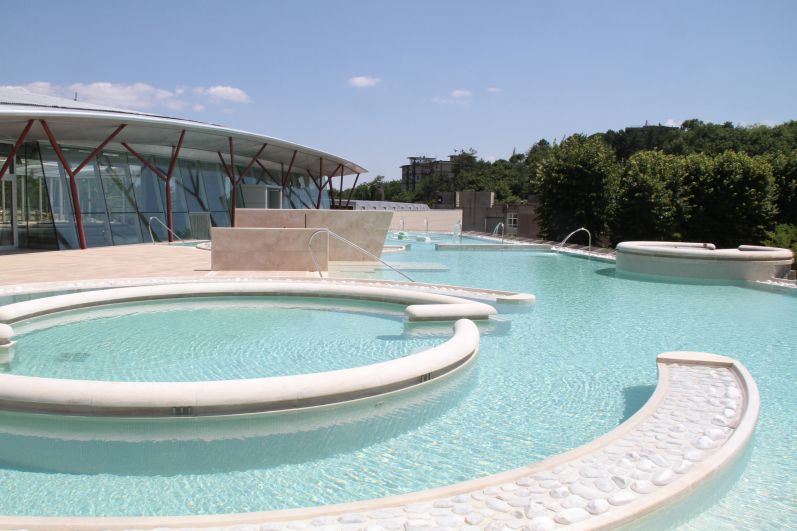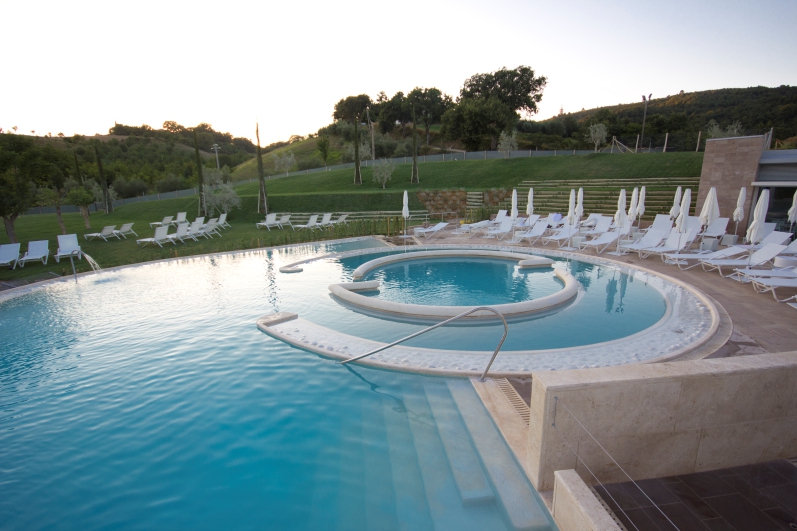 Terme di Chianciano have opened the new Theia thermal pools, open all year round. The Water of the pools comes from the Sillene spa source with a temperature ranging between 33° and 36°. The new spa comprises four outdoor pools and three indoor pools all connected to each other and 1.30 meters deep. The total area covered is 536 aquare meters. All pools have water features, hydro-massage loungers, water jets for cervical massages and thermal water fountains. The green area surrounding the pools is equipped with sun beds, parasols, tables and chairs. A bar is open daily for drinks and light meals.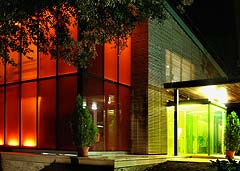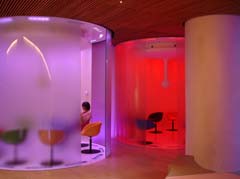 Terme Sensoriali are a thermal temple integrating modern architectural languages, wellness expertise and traditional natural and ayurvedic medicine in a single structure surrounded by the green of the Parco Acqua Santa in Terme di Chianciano. The 1300 square meters of Terme Sensoriali embrace different experiences articulated in specific itineraries according to individual necessities. The idea upon which Terme Sensoriali are based stems from the synergy between different experiences and skills and combines bio-building, the research for architectural environments in harmony with its inhabitants and the expertise of naturopaths and professionals of Ayurvedic medicine. From here derives the idea of dividing the structure according to the 5 elements which in the Ayurvedic tradition, or science of life, are at the origin of the universe and human kind and which correspond to our senses. Therefore, in the conceptual design of the Terme, treatments and "traditional" thermal practices such as baths, mud and mineral water treatments merge with the principles of Oriental philosophy and follow the holistic vision of individual well-being according to which the many and pleasant sensorial experiences are interpreted as an energetic rebalancing of the chakra. Energy disequilibrium is at the origin of many ailments and pathologies: the recovery of this equilibrium and therefore of well-being is achieved through the stimulation of the five elements and five senses and specific treatments
The itinerary, which can be followed individually or with other people, starts from the walk on river pebbles and continues to emotional showers with oils, lights and colours and thermal pools with internal and external water massages, including a salt-water pool, and much more. The atmosphere of the pool with music coming from underwater is magic. Then there are traditional and Etruscan saunas, the Turkish bath, to be alternated with cold vapour or ice crash. Guests can choose the sequence of experiences depending on the itinerary specifically created by expert naturopaths and therefore choose the combination most suitable for their present condition: relaxing, energizing, rebalancing or depurative. The itinerary can be easily followed with the help of a map distributed at the entrance; moreover the staff of Terme Sensoriali is always at your disposal for any advice.